Shopify
Drive quality traffic to your Shopify store and boost sales with a one-click ad exchange campaign.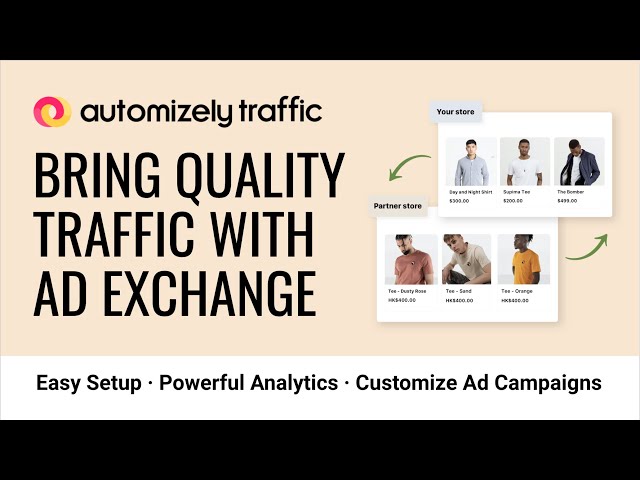 Benefits
No code one-click setup - In a click of a button start displaying beautiful high-converting display ads on other Shopify stores to acquire virtual footfall on your store.

Drive free traffic - Get your products in front of millions of customers who are interested in buying what you are selling.

Accelerate sales - Promote your store's assets in front of customers who are further down the sales funnel with a high purchase intent to close the deal quickly.

Join ads partner network - Join 10K+ Shopify partner stores to share traffic by promoting products on each other's stores.

Improve product portfolio - Get intelligent insights on how your ads are performing and what products customers are liking by studying the number of clicks, click-through rate, and impressions.
How it works?
Description
With so many aspects of the business to take care of, spending a huge amount of money on marketing to promote your brand can put a dent in the overall budget of your business. Automizely Traffic is a traffic acquisition app designed for growing Shopify and Shopify Plus to acquire high-quality traffic to their store without spending anything. How? With the power of ad exchange, online stores can promote their best product in other Shopify stores in exchange for promoting their products on their website. With over 10k+ Shopify stores in our extensive ad partner network, you can get your products in front of millions of customers who are interested in buying what you are selling. With this barter of ad space on each other's online stores, retailers can expand their customer base and target those who have a higher purchase intent to get customers to close the sale quickly.
Setting up your ad campaigns with Automizely Traffic is simple and straightforward. After connecting your store, select five products from your store you would like to promote on partner stores and change the ad exchange status to active. This will enable the products you've selected to start appearing on other Shopify stores. To make your ads stand out and resonate with your brand style, customize them the way you want, give your campaign a striking heading to attract customers, and exclude the partner categories you don't want displaying on your store. Monitor how your ads are performing with the valuable data on impressions, clicks, and CTR and replace the products that are not garnering enough attention with the new ones.