One-stop application for referral marketing
Install Automizely Loyalty to turn your customers into brand advocates for a smooth business expansion.
Everything you need to make referral marketing easier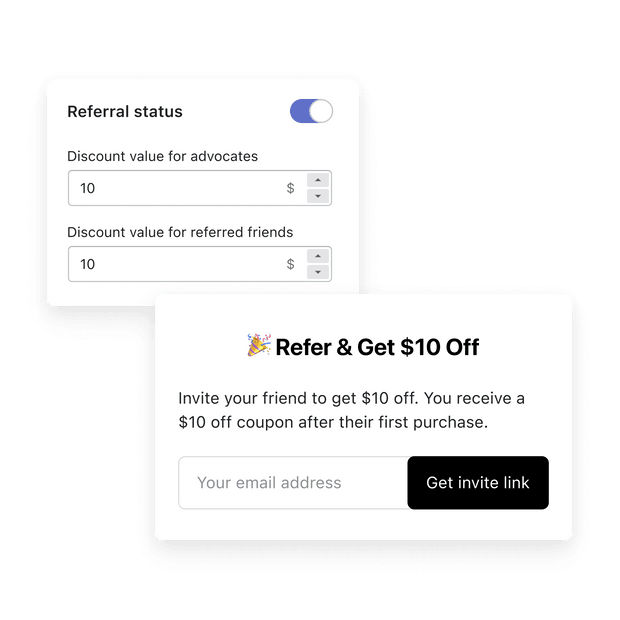 Enterprise-grade platform & industry compliance
ISO 27001 certification
The world's most rigorous standards for managing information security and privacy.
GDPR compliant
We are GDPR compliant to protect data and privacy in Europe.
24/7 live chat support
Our support team has the strong product knowledge to help you grow your business.
Apps & integrations
Connect Automizely Loyalty with Shopify and other eCommerce platforms easily.
Multiple users
Allow organization owner to invite members and manage membership. Cost $5/user/month.
Multiple organizations
Set up multiple organizations in order to manage multiple stores easily.
Trusted by 500+ Shopify stores
What an excellent app! Pretty much straightforward, and I could use it to gain more customers. Try this out!
A Hundred Monkeys
Fast and great customer service. It looks very easy to use, and we can't wait to try it out for our customers!
CherubRubs
This is fantastic! Finally a way to get my current customers to refer new ones! Thank you for making this!
Lotus Apparel
Great FREE app with Amazing Live Chat support. Highly recommended! They also have other great apps, and we have downloaded 2 of them and enjoying a lot.
Canadian Cell Supplies
I use this referral app recently. Nice layout and design overall. They've always responded pretty quickly. Looking forward to seeing their updates.
Cozydeliver
I used this app to retain customers, and the setup was easy and hassle-free. It took less than 15 minutes to set up. The customer support team was very kind and helpful.
Bella Doll Beauty